President's Message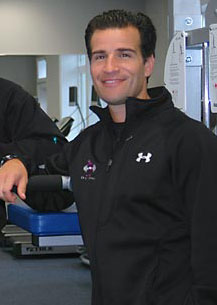 Thank you for your interest in Personal Training Professionals (PTP) Franchise. This organization is dedicated to excellence. We will provide you with the assistance and support that you will need as you enter into a new and exciting career. By joining our franchise network, you will be drawing upon the resources of a company with a wealth of experience and a high level of success and creditability. Professionalism, hard work, and dedication are the cornerstones of the PTP organization and we look forward to you joining our team.
PTP has been providing highly-effective health training services since 1998. Now, we are offering qualified individuals the chance to own a PTP franchise of their own. If you are accepted as a franchise owner, you will be helping people make positive changes in their lives. It presents an extraordinary opportunity and a healthy new career direction for you!
We look forward to sharing with you our keys to success and welcome the opportunity to work with you. To learn more about PTP Franchise and how you can become part of this exceptional organization please fill out our franchise information request form, send us an email or call us toll-free at 1-866-97-PTP-4U (1-866-977-8748).
Thank you for your interest!
Sincerely,
Jason Baer
President
Personal Training Professionals | PTP Franchise